David Hughes, a bearded 70-year-old man from Deltona, Florida, entered and won a traditional Ladies' $250 buy-in poker event, the Seminole Hard Rock Poker Showdown. The player caused a lot of noise on social media when pictures from the event were shared online.
David, whose best performance in the World Poker Tour was finishing 9th at the Rock 'N' Roll Poker Open back in 2021, entered the ladies-only tournament to the surprise and shock of everyone on Saturday night. The event occurred across the hall from the $3500 Seminole Hardrock Poker Open Tournament.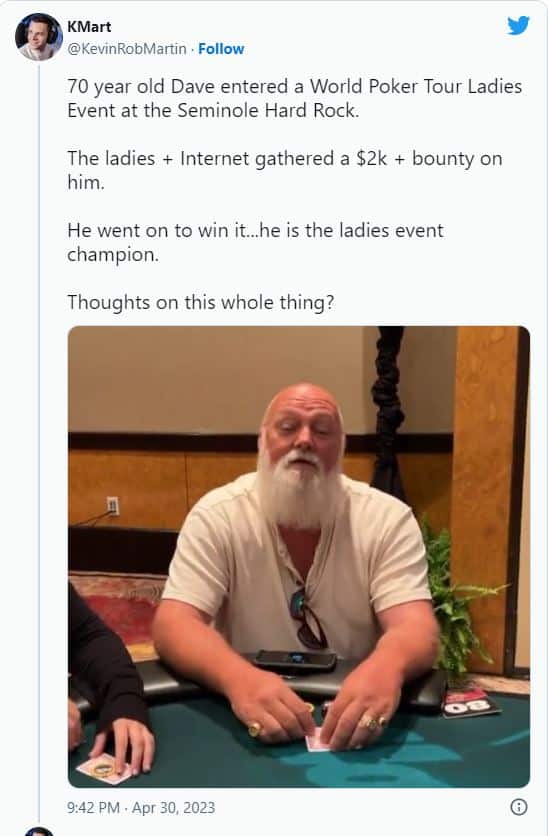 Seeing a man at the women's poker tournament sparked mixed reactions from fans and players on social media. Some fans took it lightly, while others were not so happy.
Ebony Kenny, one of the 83 ladies at the tournament, took the matter into her own hands. Ebony placed a $300 bounty on David, which several other players and onlookers later matched. The total bounty reached over $2100, equal to the third-place prize. Funnily enough, Hughes also chipped in $100 to the entire bounty pool!
"While we appreciate the dead money, I really wish men would get what these events stand for. So I put a $300 bounty on his head and Tamra & Noah Piderit matched it. Let's get him.", Ebony said in her tweet.
The question on everyone's mind was how a fully bearded man entered a ladies' tournament. The answer would be that Floridian casinos are not allowed to prohibit men from playing in ladies' exclusive events.
Stay up to date with the latest Florida sports betting news with Best Sports Betting Florida
Florida is not the only state with such laws; however, states like Nevada also have similar laws against discrimination in sports. There haven't been many instances of men playing in ladies' tournaments over the years, which can be credited to the fact that some competitions offer a 90% discount to ladies to discourage men from entering the contest.
Steps like these, however, do not outright prevent men from playing in ladies' exclusive events. In the year 2009, a man named Abraham Korotki won the $300 Ladies Event at the Borgata Poker Open, which featured over 250 players! Other sports have also recently seen a trend where men compete in Ladies' tournaments in the name of 'gender equality.'
Although David bought in three times at the tournament on Saturday, he won $5,555, beating out the second-place finisher Dayanna Ciabaton. When asked about the whole ordeal, David claimed that he entered the tournament in 'protest' of WSOP's rule #128, which states that:
"128. Host Properties and its affiliates respect the right of Participants to the full and equal enjoyment of the goods, services, facilities, privileges, advantages, and accommodations of the WSOP Tournament without discrimination or segregation on the grounds of gender identity or expression."
Ladies' events are usually amateur and are a good learning space for ladies who later want to compete in open tournaments. Entry of men, especially those who have experience playing in pro tournaments, removes the learning experience and creates confusion.
Although some states' law does not forbid men from partaking in women's tournaments, it is easy to see why it is frowned upon. Casinos and tournament organizers can take measures to discourage men from entering; however, as discussed earlier, they cannot outright block them until the state laws are changed.
Was this article helpful?