Following an unprecedented exit from the Cuban National Team at the World Baseball Classic, twenty-six-year-old Ivan Prieto Gonzalez is confirmed to have signed a contract with a sports agency representing Major League Baseball players in the US.
The news was shared in an Instagram post by the agency, Leona Sports, on Thursday.
Prieto was reported to have reached out to Leona Sports for their established track record of representing Cuban and Latino Baseball players. The agency currently represents Cuban-born American Baseball player, Yasiel Puig, and many others in national and Florida baseball.
Lisette Carnet, founder of Leona Sports and first Cuban-American female certified Major League Baseball agent had congratulated Prieto in a similar Instagram post, writing "Welcome to the Jungle, Ivan!".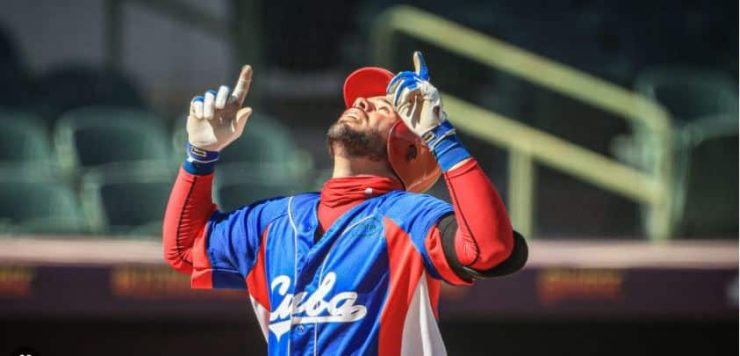 This bold move comes on the heels of a devastating 14 – 2 loss for the Cuban National Team to former champions Team USA in the semi-final game, dashing all hopes of winning the WBC title.
The Sunday night loss was witnessed by a packed audience at the LoanDepot Park in Little Havana, Miami. Dozens of Cuban Americans, including several activists, broke out in protest against the communist Cuban government over the game weekend.
Prieto was notably absent from his teammates the following Monday as his team boarded their flight back to Havana at the Miami International Airport. Members of the Cuban exile community in Miami told the EFE news agency that calls were received from Prieto's native province of Holguin in Cuba, advising him to remain in the US.
Henry Morales, a journalist noted for covering Cuban baseball, reported that after arriving at his hotel that Sunday night, Prieto had walked out and entered a car with some of his relatives.
The news of his defection would later be shared by Pelota Cubana's Francis Romero and Yordano Carmona, as well as several other news media outlets and journalists.
While Prieto did not play starting catcher for Team Cuba during the semi-final game, he travelled with the team as a bullpen catcher and was not registered to play in the league. Along with playing for the Cuban National Team, Prieto played a total of seven seasons for Sabuesos de Holguin and Alazanes de Granma in the domestic Cuban National Series and batted .291 average with 13 home runs and 102RBIs in 257 games.
He is the first ever Baseball player to defect during the World Baseball Classic. His former team put out a statement describing Prieto as being a 'deserter'.
The Cuban Government is however yet to comment on his defection.
A woman claiming to be a relative of his told Local 10 News that he is currently staying with his brother and friends outside of South Florida. She further stated that it has been a particularly difficult time for his family back in Cuba, which includes an infant daughter he left behind.
It is still unknown whether Ivan Prieto will be granted asylum in the United States.
Was this article helpful?